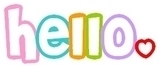 Hello Everyone,
There's a few word I would like to share with you guys.
I'm only going to be exhausted if I keep sprinting in this rough world.
Even a kid knows that we're living in a world of dilemmas.
You can't just get angry 'cause the world is not going the way you want it to be.
Grades go up and down, that's just how it is. Performances go up and down, it happens all the time.
Sometimes it's okay to just chill and take a break. 'Cause there's always the right time for everything.
Don't worry anymore, the good day will come.
So forget about serious matters n just smile today, because your smile makes everyone happy.
Sounds good huh. This is Mr. Simple's lyric by Super Junior. It's really make me feels good after hearing these song.

---
Thanks For Read, Feel Free to Leave Your Comment Down Here.
---