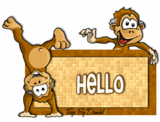 My name is Aemi Khalida. I like to know my name in other language so these are the result:
My Korean name is Min Ha Chan.
My Chinese name is Yumi Ling.
My authentic japanese name is 山下 Yamashita (under the mountain) 久美子 Kumiko (eternal beautiful child).
How interesting to know it. How about you? Wanna try? Find out your name in
Korean
,
Chinese
and
Japanese
.

---
Thanks For Read, Feel Free to Leave Your Comment Down Here.
---